Dispensary
In order to provide the best possible care for our patients and clients we have an in house Dispensary stocked with most regular prescription medications. However as there are now so many different medications for each condition we cannot keep all medications, or very large stocks of medications, on the shelves. For this reason it is usually best to ring a week before you run out of medication to fill a repeat script, as this allows us to order in the medication should it be required to fill your pets script.
Because we are an ASAVA (Australian Small Animal Veterinary Association) accredited hospital we are required to check patients twice yearly when they are on chronic medications. This is to ensure that the medication is not causing unwanted side effects and that no new medical conditions have developed that may require a change of medication. In some cases current medications may become unsafe if kidney, liver or heart problems develop.
Some medications, such as antibiotics, can not be prescribed without an appointment as there are now increasing problems with antibiotic resistance of bacteria. It is essential to ensure the right antibiotic is chosen depending on the bacteria present and the location of the infection. This often requires us to do some in house tests to identify the type of bacteria present and occasionally we may need to send a sample to pathology to identify the bacteria and their sensitivity to antibiotics.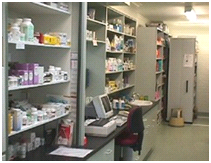 We also stock a large number of over the counter medications such as medicated shampoos, worming, flea and heartworm prevention and our friendly staff will be more than happy to assist you with your pets needs.