Practice Manager
Melanie (Mel) Conibeer.
Mel is our Practice Manager and has been working with us since the middle of 2009.
Mel emigrated to Australia in 1982 with the intention of living in Sydney, but came to Canberra for a family holiday and has been here ever since. She loves Canberra and the coast.
Mel is a bit of a jack of all trades, not only is she our Practice Manager, she also enjoys gardening, dress making, quilting, and she's not a bad cook either. Mel also makes tote bags including carry bags for our pampered little pooches and puss cats, made to order.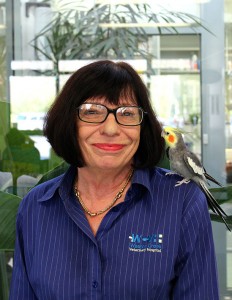 Mel & her trusty assistant; Arnie the Cockatiel